If you're D/deaf and use East Kent Hospitals, we can help you to get an interpreter
D/deaf patients are now being offered a free card that clearly indicates that they need a British Sign Language interpreter when they have an appointment at East Kent hospitals. Get in touch if you want yours.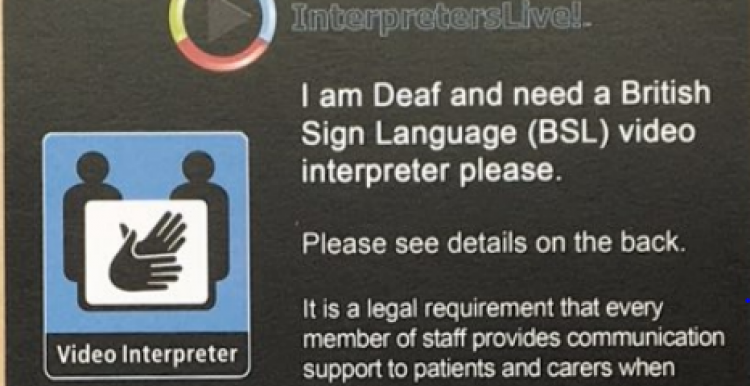 Our volunteers have been working with East Kent hospitals for many years to make it easier for D/deaf people to visit the hospital. Lots of people have told us how hard it can be to go to a regular hospital appointment and their worries about if an interpreter will be there to help them. In emergency situations, this is even tougher. Many people are relying on their families to act as an interpreter for them.
Thankfully, these new cards are now available for all D/deaf patients who use East Kent Hospitals and will help people to clearly state that they need a British Sign Language interpreter. This interpreter can then be sourced by hospital staff through a new online video system.
Get your cards from us
We have a supply of the cards and can send one to you in the post. Just email us on info@healthwatchkent.co.uk with your name and address.
At the same time, tell us what it's like for you when you go to the hospital and whether you have found it hard to get an interpreter to help you.
We really want to know your story
Tell us what it is like when you go to the hospital? Did you get the help that you needed? Do you take your family with you to sign for you? 
What about if you visit the GP or the dentist? 
We can use your story to help make more improvements for other Deaf people.
We've heard first hand how difficult it can be for Deaf people to attend a regular hospital appointment, let alone if they need emergency treatment or are in hospital for a long time. We've been working with East Kent Hospitals for several years now to make it easier for Deaf people to visit hospital, so it's great to see the new cards launched. We hope they will help hundreds of people to get the support that they need.