Have you used IAPT services?
We've had some feedback about IAPT services but we want to hear more!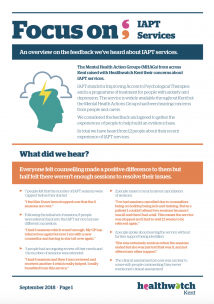 If you live in East Kent, you may like to know that IAPT services are being reviewed. 
It's important to give your feedback to help shape and improve the services for others. They also want to hear from Carers and people who tried to use the service but weren't successful. 
Make your voice heard
You can share your feedback directly by clicking the button below. 
Read what we have heard so far in our report below. 
If you need this report in a different format, please email Healthwatch Kent info@healthwatchkent.co.uk or call 0808 801 0102.