Another year is over which means a new annual report!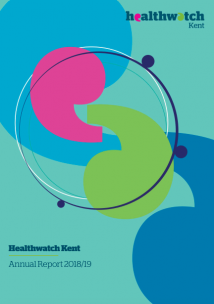 Summary
Between April 2018 and March 2019, we listened to 2478 people's story of health and social care in Kent. 
If you want to find out what we accomplished with your voice and what we are planning to do next year, check out our latest annual report.
Key findings
425 people accessed Healthwatch advice and information online or contacted us with questions about local support, 91% more than last year.
We visited 36 services and 50 community groups to understand people's experience of care. From these visits, we made 43 recommendations for improvement.
40,378 people engaged with us through our website and social media.
We've spoken to 95 people in depth about specific issues to make health and care better in our community.
If you would like this document in another format, please email us at info@healthwatchkent.co.uk or call our freephone on 0808 801 0102.