Giving the Trans & Non-binary community in Kent a voice
For six months we have been working with the Trans & Non-binary community here in Kent listening to their experiences and exploring what could be changed to support them better.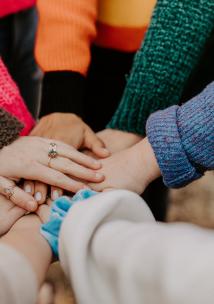 I'm still yet to get my first appointment with the GIC after nearly two years of waiting.
What did we hear?
Working in partnership with Kent Community Foundation Trust, we heard clear themes: 
People felt their GP had not listened to them or understood them
We heard the need for more emotional & mental health support
Improved awareness and understanding amongst professionals is needed
The impact that long waiting times have on people's mental health
Issues around the availability and accessibility of services, with gaps in specialist support
GPs are refusing to prescribe my medication (contrary to my shared care agreement) so I have to travel up to London every 3 months to get injections.
I was given a list of GPs to contact to take me on as a patient. After being interviewed by six other local GP's I eventually found one who would support my needs.
What are we asking for?
Around 17,600 people are thought to be part of the Trans & Non-Binary community in Kent and Medway.  Based on what they have told us we are calling for the following changes:
We are calling for four Primary Care Networks spread across Kent to come forward to commit to supporting trans & non-binary people and their healthcare needs
We want to see a Pride in Practice scheme established between the GPs within these 4 Primary Care Networks
We want to see the support for people who are waiting for an appointment with the Gender Identity Clinic improved
We are asking for senior decision makers to build a constructive relationship with the Trans & Non-Binary advisory group which is organised by the Kent Community Health Foundation
We are calling on health commissioners to discuss the feasibility of local Gender Identity services
You can read all the details about what we have heard and what we are asking for in our report.