Healthwatch and Dartford Gravesham, Swanley CCG hit the highstreet
To make sure you have your voice heard on the plans to create a new Urgent Treatment Centre in Gravesend or Dartford, we headed out with Dartford, Gravesham & Swanley Clinical Commissioning Group.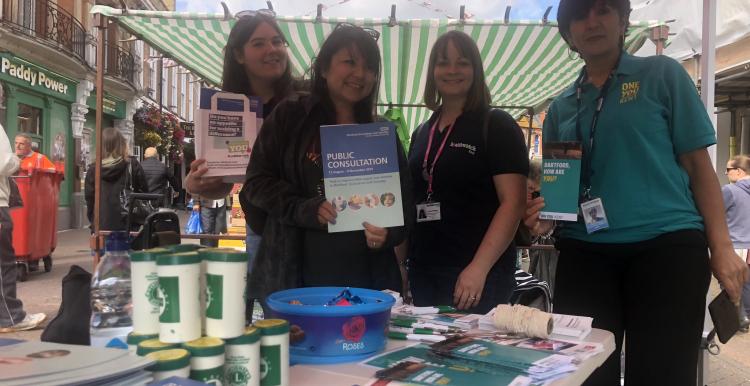 What is urgent care?
Urgent care are the illnesses and injuries you go to your minor injury or walk-in centre for. These are non-life threatening but need an urgent clinical assessment or treatment on the same day.
What's the proposal?
NHS Dartford, Gravesham & Swanley CCG's proposal is to create a new Urgent Treatment Centre (UTC) at either Gravesham Community Hospital or Darent Valley Hospital by autumn 2020.
Both of the proposed options will merge together the existing urgent care services provided by the Minor Injuries Unit at Gravesham Community Hospital and the White Horse Walk-in Centre at Fleet Health Campus under one roof.  
This will make it easier for you to know where to go if you or your family need medical help urgently.
The current local arrangements for urgent care services do not offer the full range of services that Urgent Treatment Centres nationwide are required to provide by autumn 2020.
We heard you
During our time at Darford Market we heard your thoughts about the consultation. 
We heard people about about :
waiting times at the A&E
concerns about costs
which area would be more accessible 
is everyone from each area getting their say
With the knowledge of staff from the Clinical Commissioning Group people left with more information to help their decision. If you'd like to find out more or have any questions you can do that here.
This visit is one of many for Dartford Gravesham & Swanley CCG. Over the past few months they have been traveling with the Urgent Care Roadshow to hear from different areas and communities around North Kent. 
Have your say
If you'd like to find out more about the proposed changes and give your views, visit NHS Dartford Gravesham and Swanley Clinical Commissioning Group's website. The survey closes on Monday 4th November so make sure you share your views before it's too late.