Our report details the reality of living with autism in Kent
A new report details the challenges that families face when trying to get support for a child with autism.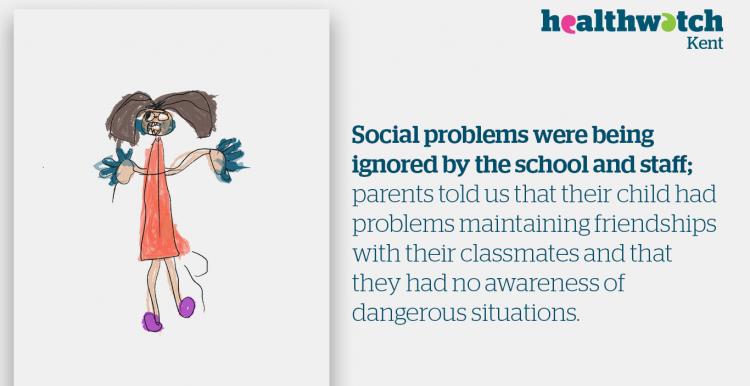 We captured feedback from 127 people about their experiences which we have used to inform a number of recommendations about how peoples' experiences could be improved.
Key findings include:
Over 50% of young people didn't feel they got enough information when they were diagnosed
80% of parents told Healthwatch Kent that they hadn't received any support
Parents said the route to getting a diagnosis of autism for their child was 'confusing' and 'unclear'
Parents talked about the lack of support in schools especially for children who had high functioning autism
We have made a series of formal recommendations which we have shared with key decision makers across both health and social care in Kent. The findings have already been used to inform Kent's response and action plan to Ofsted's recent report on Kent's Special Educational Needs and Disability (SEND) services. The Ofsted report also highlighted the lack of parent and carer involvement.
Healthwatch Kent's Steve Inett said,
"We regularly hear about the challenges that young people and their families face when trying to use Kent's autism services.  This report gives us the evidence we needed to set out some clear recommendations which we have already taken to decision makers.  We'll be working with the relevant commissioners and providers of autism services across Kent to ensure this picture changes and it becomes easier and clearer for people to get treatment and support for autism in a timely way."
Rachel Jones, Senior Responsible Officer for children's services for Kent and Medway Sustainability and Transformation Partnership said,
"We are grateful to Healthwatch Kent for the work they have done to highlight concerns of parents, carers, children and young people and the report on services for children and young people is sad reading. Despite changes and some improvements in these services, we are aware we still do not have it right.

"Throughout the summer we have been talking at length with families using these services to better understand where we can improve. This will be a priority area for us as councils and NHS organisations across Kent and Medway work closer together to address health and social care needs and develop a plan for improving services for children and young people.

"We are now working directly with children, young people and their parents to re-design the whole pathway for autism and other similar conditions."
Want to read the report?
You can read our report which details everything people told us here. 
We are looking for Kent residents to get involved and help us to continue to improve autism services. We are seeking people who are interested in autism and would be willing to help attend some of the meetings to drive forward the necessary improvements.  If you are interested in getting involved, check out the website for more information. 
People can share their stories about autism services with us at any time for free on 0808 801 0102, email info@healthwatchkent.co.uk, or complete an online feedback form here.