The reality of autism for young people and their families in Kent
We hear about the difficulties families face when accessing support for their children who may be autistic. We wanted to explore the issues in more detail and gather more feedback about services for children and young people who have autism.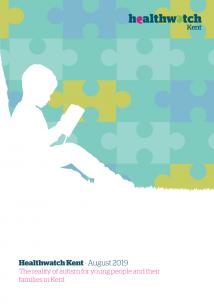 Summary
We wanted to understand three key things: What did people expect from the service? What in reality was their experience? How in their view, could their experience have been improved?
What did we find out?
80% of parents told us that they hadn't received any support.
Parents talked to us about the lack of support in schools.
There is much confusion regarding the referral process, and parents were unsure who to speak to regarding a referral.
Over half of the young people we spoke to felt that they didn't get enough information at the time of their diagnosis.
This is only a few of the many things we found out, thanks to over 130 people sharing their experience. 
Read more in our report and get a better taste of the reality of Autism for families in Kent. 
If you require more detail, we have a longer reports which details our work in more depth should you need it.
Healthwatch Kent - The reality of autism for young people and their families in Kent