What support is available for people with Dementia when they attend a hospital appointment?
For many of us attending an appointment at hospital can be daunting. For someone with Dementia, it can be terrifying!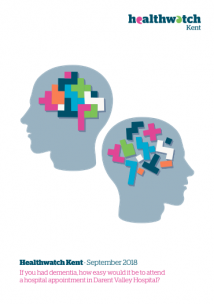 Summary
Hospitals are busy, loud places and people with Dementia, and their Carers, tell us how challenging it can be to attend regular Outpatient appointments.
We partnered with Alzheimer's & Dementia Support Services to visit Darent Valley Hospital and see for ourselves what support is available for people with Dementia.
Key findings from our research:
Inconsistent information and confusing signage made navigating the hospital confusing.
Information leaflets were not supportive to people with additional needs such as our volunteer with Dementia.
We heard about volunteer Dementia Buddies but they are not available in the main reception or Outpatients.
We have made a number of recommendations and we will be following up with the hospital to ensure they put actions into place.
If you had dementia, how easy would it be to attend a hospital appointment in Darent Valley Hospital?