How easy is it to attend a hospital appointment if you use a communication aid?
That's the question we asked ourselves when we visited Tunbridge Wells Hospital recently.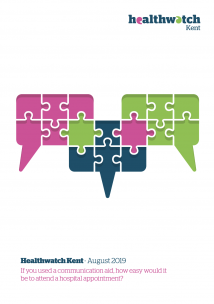 Summary
Thanks to the Motor Neurone Disease Association, we found the remarkable Mike and his wife Beryl. Mike has Motor Neurone Disease, uses a wheelchair and a communication aid. Beryl is his Carer.
Together we visited Tunbridge Wells Hospital to see for ourselves how Mike what support would be available to Mike & Beryl to attend a regular hospital appointment.
We're delighted to report that they were very well supported by the hospital. 
Key findings:
Reception staff knew how to assist us

There are champions throughout the hospital who are key contacts on what additional support patients may need

There is a Disability Champion on each ward
It wasn't easy to find information on the hospital website about coming to the hospital in a wheelchair or booking an interpreter
The main noticeboard wasn't easy to understand for our volunteers
We've shared all of our findings with the Hospital and they will be working with their Accessible Information Standard Steering Group on our recommendations.
We will publish an update on the progress in 6 months time.
In the meantime, tell us your story about visiting any of Kent's hospitals. Call the Helpline on 0808 801 0102, email info@healthwatchkent.co.uk or fill in our online form.
This visit is one of a series of visits to Kent hospitals to understand what support is available to patients who need extra help. You can read all the previous reports below.
Healthwatch Kent report : what support is available for people with communication aids?