Spotlight on reducing digital exclusion
Many organisations in Kent are working hard to tackle the inequality caused by our increasing reliance on technology. We decided to review one of these projects to see what difference it is really making to people.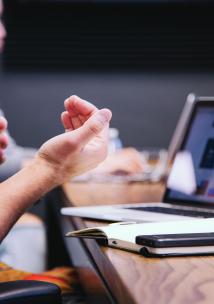 Helping the Nepalese community in Folkestone to get online
Folkestone has one of the largest Nepalese communities in the country. Before Covid, Kent Coast Volunteering started working with the community to help people to get online and build their confidence in digital skills. The project was funded by community interest company, EK360 as part of their work to invest into communities.
Their work became even more important once the Covid pandemic hit, and has been instrumental in helping people to be less isolated and be able to access health and social care services during the pandemic.
I have learned how to book medical appointments online which is by far the most useful
Has it made a difference?
We analysed the impact that this work has had on the individual people involved. The technical term for this is social return on investment or SORI.
You can read our full report (which includes the details of how we worked it out) but the highlights are:
For every £1 invested by EK360, we can see a return of £20.90 worth of social value. That works out as an average of £8,041 worth of social value for every participant.
21 people from the Nepalese community have now been trained.
These people now feel less isolated and have gained knowledge and confidence which has enabled them to access health and social care services online, book their Covid vaccines and help other people too.
The project leader has now secured further paid work to roll the scheme out to other parts of Kent.
Overall, the project has generated £209,086 worth of social value/ impact in its first year.
Important skills I have gained is to use e-Consult on my local GP surgery website and access to online services on Folkestone and Hythe District Council website
That's a great result all round!
Thanks to Kent Coast Volunteering and EK360 for letting us come and review your work.