The challenge is that my husband won't remember having the first vaccine
People who look after someone at home are now entitled to the Covid vaccine. Penny looks after her husband who has Parkinson's. Both of them have recently been vaccinated for Covid. We spoke to Penny about her experience.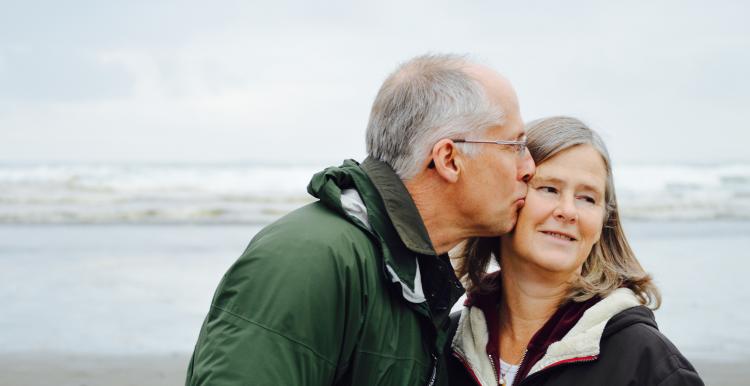 "We were phoned by our GP surgery to arrange our vaccination appointment. I asked if me and my husband could have our appointment at the same time and they said agreed. We booked the second vaccination in the same phone call too. It was all very clear and organised.
My husband got very nervous, confused, and anxious when he found out he was having the vaccine. I chose an early morning appointment on purpose so he didn't have all day to worry about it. I felt fine but I really hate vaccinations! 
We drove to the vaccine centre; it was about six or seven miles away and there was some flooding on the road. However, when we arrived it was confusing. It wasn't clear where we were allowed to park and people were being turned away and told to go to another carpark. As we have a disabled badge I was able to go and park in a housing estate but it was quite nerve wracking for some people. We had to queue for about ten minutes and it was very cold, a lot of people didn't have hats or coats on! We were told to keep apart but lots of people didn't social distance, however they did all have masks on.
We were marshalled in and went through identity checks to make sure we were who we said we were. They filled in my husband's details at the desk but forgot to do mine. 
When we were in the vaccine room I helped my husband get his arm out for the injection, the nurse was a lovely lady.
Because the people at the entry desk hadn't filled in my form it meant that I hadn't given my authority for the vaccination so the nurse had to go back to get it all filled in. This didn't worry me, but it might worry some people. Once my vaccine was done we had to wait for ten minutes and then we left.
Looking after my husband distracted me from my own anxiety about the vaccine.
There were a lot of people inside who were confused and they weren't social distancing. I knew I had to keep my husband apart from everyone else, it's difficult being a carer because when you're in public its different from being at home. My husband had to verbally state he understood what was happening before he could be vaccinated and the nurse did it so quickly he didn't even realise he'd had it.
The challenge is that he won't remember having the first one done when it's time for his second one."
Have you had your vaccine? 
Would you share your story with us? We really want to hear from you.
How did you get your appointment? How did you feel when you got the news? Was the clinic well organised? Did you feel safe?
All these questions, and more, are so important. Your feedback can help organisations to ensure the vaccine programme works for us all.